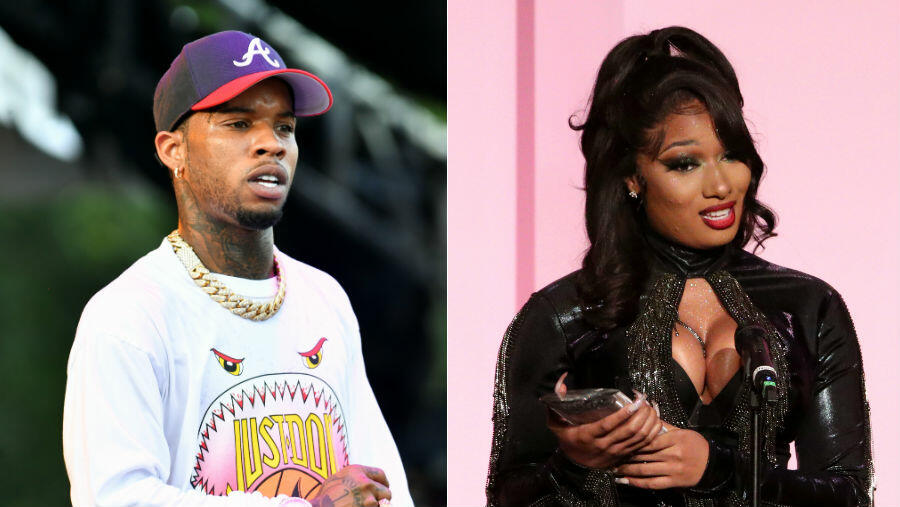 Kehlani stopped following Tory Lanez on Instagram after the shooting incident involving Megan Thee Stallion. The details about what led to Megan being shot in both of her feet is a mystery, and even though Tory was arrested, he hasn't been named as a suspect.
So, Kehlani shared on Twitter that the music video for her single "Can I" drops tomorrow—a single that includes a feature from Tory. Fans wanted to know about the track, so Kehlani addressed the obvious with her supporters.
"Full transparency cuz i believe in that with my following, his verse is still on the song, the video is solo. new verse on the deluxe," she tweeted. "The album came out months ago i can't remove it , doesn't work like that. can only move forward."
Meg Thee Stallion hopped on IG Live and issued a statement on being shot in the foot.
"I see a lot of people painting fake ass narratives and making up stories and all this other wack ass shit," she said before thanking the Hotties and fans for sending their prayers. "Thank y'all so much because y'all really been the ones that helped me get through this."
Meg addressed why she refrained from using social media.
"And it's not that I was protecting anybody. I just wasn't ready to speak. That's not no shit you immediately get on the Internet and start talkin' about," she continued.
She confirmed that she was shot in both feet, revealing she had surgery to get the bullets removed. "Thank god the bullets didn't touch bones or break tendons. Like I know my momma and my daddy and my granny had to be lookin' out for me with that because where the bullets hit at, it missed everything but the mothafuckas were in there."
Meg didn't mention Tory in any capacity.
"Imagine being 25 and you don't have both of your parents. My momma was my best friend. I'm still not really over that. So you gotta like, fill your space with a bunch of people that you think is makin' you happy," she said.
The saga of Megan Thee Stallion led to police to look at Tory Lanez himself as the trigger man.
LAPD detectives have now opened an assault with a deadly weapon investigation. It is believed that Tory allegedly shot Megan in the feet as she exited the SUV after an argument.
Tory was arrested and booked for possession of a concealed weapon as a handgun was found in the SUV. Upgrading the investigation to assault with a deadly weapon could mean new charges.
Megan Thee Stallion being shot in the foot stirred up conspiracy theories. Megan and Tory Lanez had been arrested after they were spotted in a car together. Megan gave her side of the story and stated that she was shot multiple times and was taken to a hospital where she underwent surgery. Tory was arrested and held on weapons charges.
Lil Ju, then tweeted to Tory Lanez, "Count your f*cking days."
"I hope y'all don't believe he was defending her! This a bullsh*t story," Lil Ju wrote.
Megan Thee Stallion who was in the vehicle when Tory Lanez was arrested on a felony gun charge, but what was believed to be a cut on her foot turned out to be a gunshot wound.
On Instagram Megan shared her rendition of the events.
"The narrative that is being reported about Sunday's morning events are inaccurate and I'd like to se the record straight. On Sunday morning, I suffered gunshot wounds, as a result of a crime that was committed against me and done with the intention to physically harm me. I was never arrested, the police officers drove me to the hospital where I underwent surgery to remove the bullets. I'm incredibly grateful to be alive and that I'm expected to make a full recovery, but it was important for me to clarify the details about this traumatic night. I'm currently focused on my recovery, so I can return back to my life and back to making music as soon as possible."
After taking Lanez into custody, Meg was transported to a local hospital where she was treated for her injuries.
Tory Lanez was arrested on felony concealed weapons charges while he was with Megan Thee Stallion.
Photos by Getty Images