Cardi B's New Collaboration With Marshmello Is Dropping Very Soon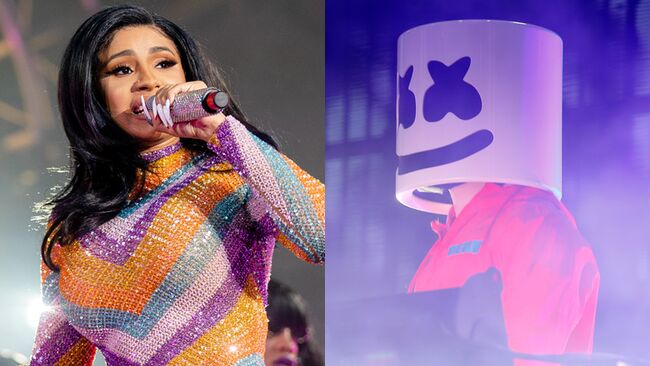 Marshmello and Cardi B are expected to drop their banger any day now.
The hit-making DJ first gave fans a tasty teaser of his upcoming project with the "Be Careful" rapper when he gifted Cardi some delicious mini cupcakes back in April. "I wonder what Marshmello man wants from me," the emcee pondered of the masked producer in an Instagram Story, hinting, "Is it a hit record?"
Indeed, it just may be. While the musicians provided very little info about their team-up since then, Marshmello confirmed the song's completion on his Instagram Stories while performing at KAOS in Las Vegas over the weekend. "Ready for our smash @iamcardib," he wrote the lyricist with a pic from his set.
If that isn't a hopeful indication the record's arrival, Marshmello's recent string of new singles certainly is.
Last Friday (June 14), the DJ unveiled a cut called "Rescue Me" with A Day to Remember and later announced his latest single — the Kane Brown-assisted "One Thing Right" — would be due out Friday (June 21). With that, it seems it's just a matter of time before we hear Marshmello and Cardi collide.
If anything, this new project proves Cardi is still very much in-demand this year, having landed several features this year with husband Offset for "Clout," as well as artists like Bruno Mars for "Please Me" and a forthcoming collab called "South of the Border" for Ed Sheeran's latest EP, out this summer.